Beiträge: 6530
Registriert: So 29. Apr 2018, 18:13
---
Beiträge: 6530
Registriert: So 29. Apr 2018, 18:13
Zuletzt geändert von
theoderich
am Mo 29. Jul 2019, 17:24, insgesamt 1-mal geändert.
---
Beiträge: 373
Registriert: Di 24. Apr 2018, 12:51
DOPPELADLER.COM - Plattform für Österreichs Militärgeschichte. Bundesheer | k.u.k. Monarchie | Weitere Themen
---
Beiträge: 6530
Registriert: So 29. Apr 2018, 18:13
Dutch Korps Mariniers receive final Anaconda light vehicles
On 11 July 2018 Dutch armed forces announced a decision to award the contract to Dutch Military Vehicles (DMV). DMV, which is a division of Dutch Iveco/Fiat main dealer DEBA Bedrijfswagens, was established in the same year to respond to the tender. The contract was signed on 2 August 2018 and included a separate 10-year maintenance award. There are no contract options.

The Anaconda is based on a 7-tonne gross vehicle weight-rated (GVWR) Iveco Daily commercial van chassis that is modified, militarised, and

converted to a four-wheel drive configuration by Austria's Achleitner.





The conventional 3.45 m wheelbase C-section ladder frame-type chassis is lengthened by 10 cm to a 3.55 m wheelbase. The standard rear drive axle and leaf spring suspension is retained, but

the front axle and suspension is replaced by a 2.5-tonne rated Achleitner independent torsion bar sprung units.

The front and rear axles are fitted with driver-controlled differential locks. Technically the GVWR of the Anaconda is 7.1 tonnes, but this is limited to 6.1 tonnes primarily by the single rear wheels and LT315/75 R 16 cross-country tyres.

Motive power is provided by the standard Daily's most powerful engine option, the 3-litre F1C, which develops 180-hp (132-kW) and 430-Nm torque. To meet operational requirements, the engine is de-rated from Euro 6 to Euro 3 emissions compliance and associated components, such as the Adblue tank, are removed to save weight and free up space. The ZF/Iveco eight-speed fully automatic gearbox is also standard from the Daily. As part of the selectable four-wheel conversion, an Achleitner two-speed transfer case is fitted. Maximum road speed is 89 km/h; and road range is 600 km.

The standard electrical system is revised from 12 V to a split 12/24 V system, the alternator is uprated to a 115 Ah unit, and an additional set of two 12 V, 70 Ah mission batteries are fitted to provide power for silent watch operations, radios, and other military-specific uses.

In terms of bodywork, the base Daily is supplied as a chassis-cowl with the body/superstructure from the firewall back designed by DMV for the Anaconda. The central section consists of a tubular roll-over frame/safety cell and seats four and a gunner in standard configuration. The central ring-mount can accommodate a 12.7 mm heavy machine gun or 40 mm grenade launcher.

The front passenger has a light machine gun on a swing arm-type mount, and the two rear seats are of the folding 'jump-seat' type. With limited modifications, seating can be increased to up to nine.

The four removable half-doors and side panels are fabricated from lightweight polyester and contoured to match the original Daily panels as closely as possible. The split front windscreen is removable and can fold forward onto the bonnet. Inclement weather protection for the crew is offered by a removable canvas roof. Ballistic protection could be fitted as an option.

To the rear of the vehicle there is a cargo area that can be configured to suit various requirements. In standard configuration, this consists of a spare wheel carrier (right-hand side), an outwardopening stowage locker, jerry can (left-hand side), and a tray with drop-down tailgate in the centre. A detachable stowage tray for lighter items can be attached to the tailgate.

Available payload for the Anaconda is 2.2 tonnes. Its overall dimensions are 5.27 m in length, 2.26 m in width, 2.27 m in height.

The Anaconda will be delivered in four variants: a command vehicle with a full radio and communications package, a patrol variant with limited communications equipment, a general support vehicle without communications equipment, and a training variant identical to the general support vehicle but with an extra brake pedal for the instructor.

The Anaconda will primarily be used by two squadrons of the Dutch Marine Corps (Korps Mariniers) and one Infantry Company of the Royal Netherlands Army, all under the command of The Royal Netherlands Navy in the Caribbean (CZMCARIB). The Anaconda could also be used for disaster relief operations primarily for the defence of the Dutch Antilles.

The vehicle is replacing a fleet of around 40 armoured Mercedes-Benz CDI 280 G-Class that will be shipped back to the Netherlands and reissued to Dutch Army units.
https://www.janes.com/article/88371/dut ... t-vehicles
https://www.facebook.com/DefensieCaribi ... ?__tn__=-R
Zuletzt geändert von
theoderich
am Sa 13. Jul 2019, 02:08, insgesamt 1-mal geändert.
---
Beiträge: 6530
Registriert: So 29. Apr 2018, 18:13
14 new DMV Anaconda's for Anti Armour Troops of Dutch Royal Marine

July 3, 2019

Dutch government has given a new order to DMV4x4 to produce 14 Anaconda vehicles for the Anti Armour Troops of Dutch Royal Marine CZSK.

These Anaconda's has another configuration and will be suitable for operations under European climatic conditions.

More information will be avaible soon.
http://dmv4x4.com/2019/07/03/14-new-dmv ... al-marine/
https://www.facebook.com/landmacht/post ... &__tn__=-R
https://www.facebook.com/DefensieCaribi ... =3&theater
https://www.facebook.com/DefensieCaribi ... ?__tn__=-R
---
Beiträge: 373
Registriert: Di 24. Apr 2018, 12:51
Das ist die Ausgangs-Plattform des Anaconda, bei der sich Achleitner ausgetobt hat: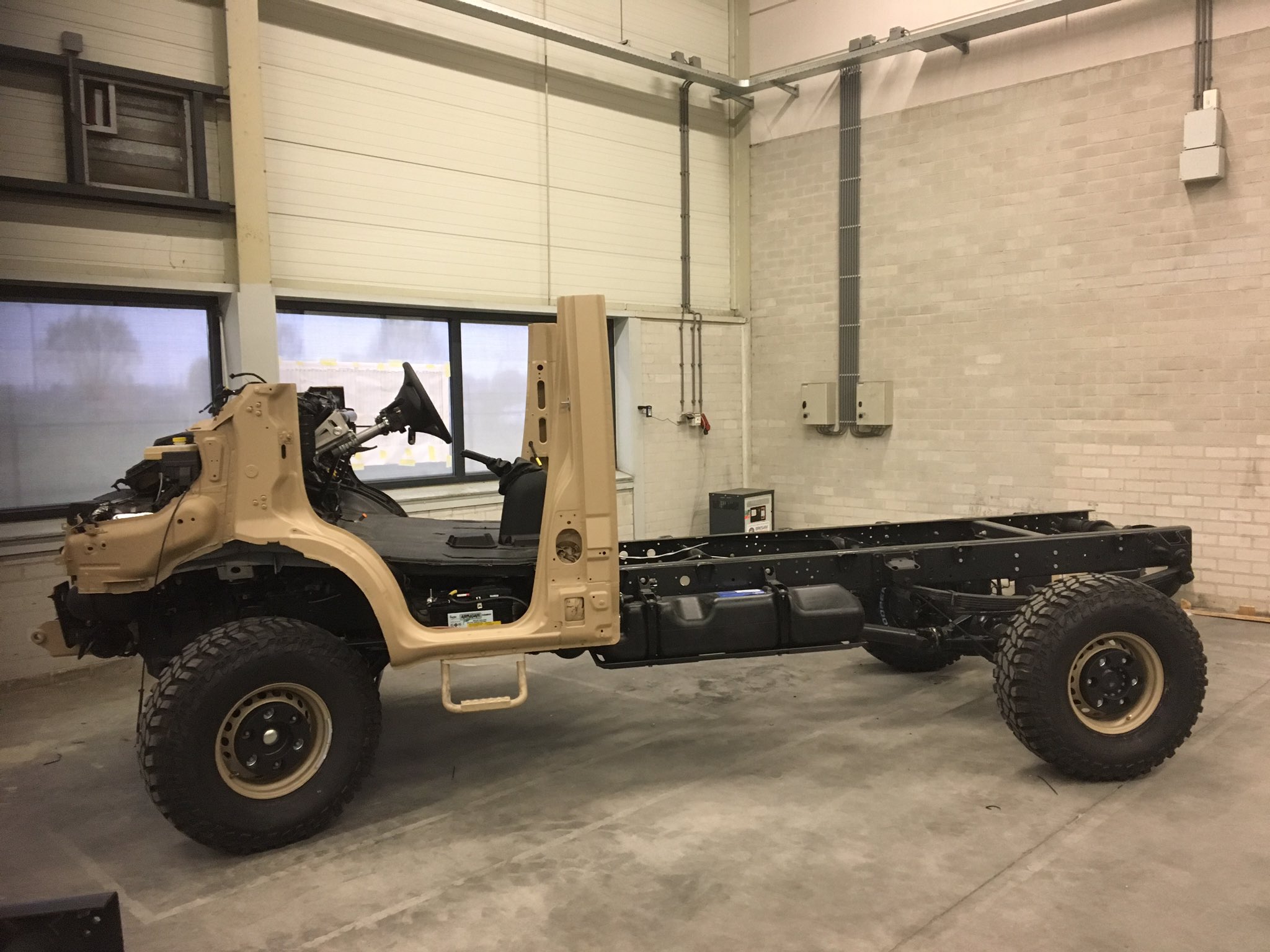 Quelle: https://twitter.com/MSch74
Darauf kann jeder beliebige Aufbau montiert werden. Hier jene der NL Marines für die Karibik.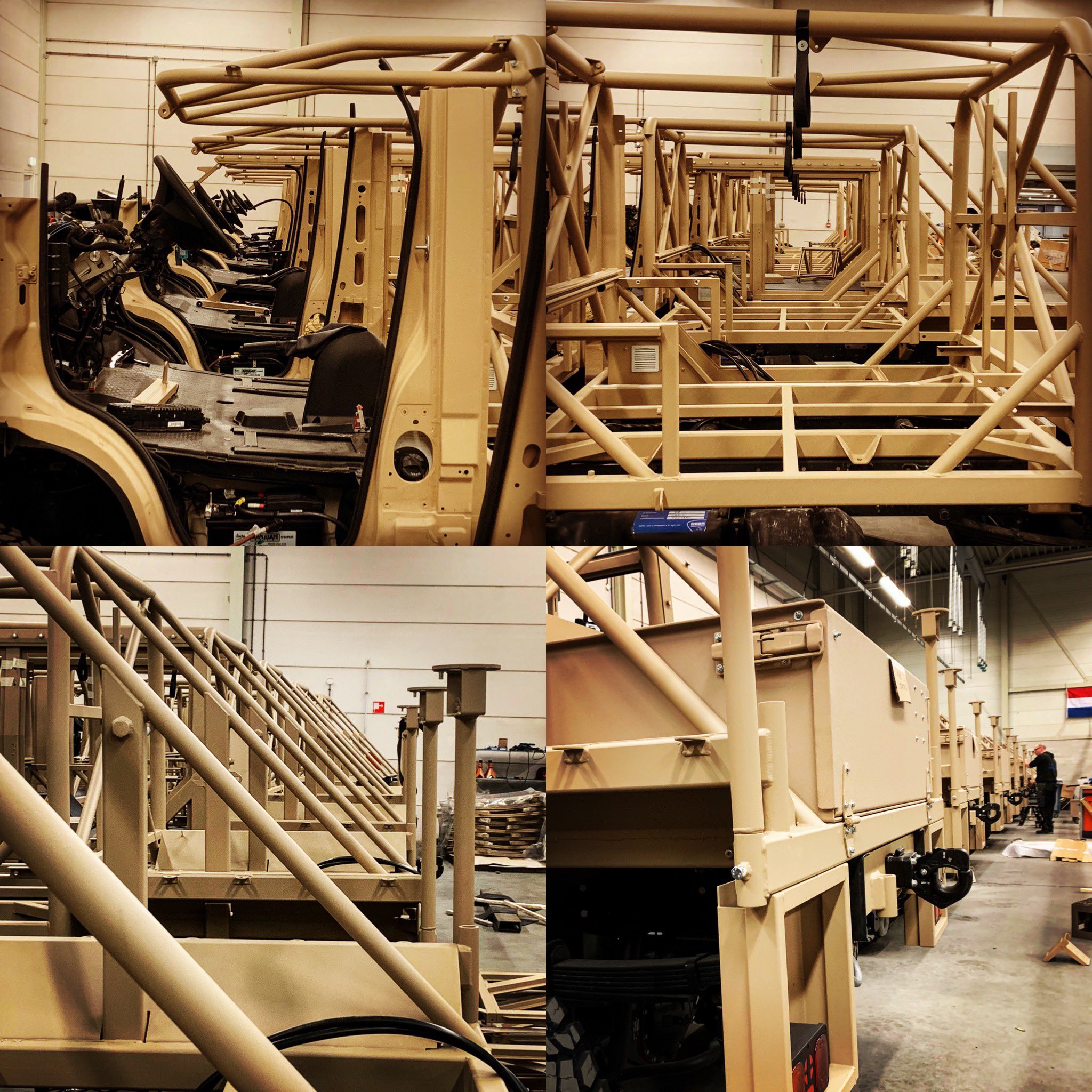 Quelle: https://twitter.com/DebaTrucks
In Kürze gibt es ein für EU Klima (z.B. Schnee) geeignete Version für Panzerabwehr-Trupps der NL. 14 Fahrzeuge wurden bestellt. Diese bekommen andere Kabine und Aufbauten. Auch Mannschaftstransport etc. ist möglich.
Das Konzept ist wirklich nahe dran am Pinzgauer.
DOPPELADLER.COM - Plattform für Österreichs Militärgeschichte. Bundesheer | k.u.k. Monarchie | Weitere Themen
---
---
Beiträge: 6530
Registriert: So 29. Apr 2018, 18:13
Das Korps Mariniers hat die neue Panzerabwehrversion des "Anaconda" übernommen:
Innovatie centraal op Defensie- en veiligheidsbeurs
https://www.defensie.nl/actueel/nieuws/ ... al-op-neds
https://www.facebook.com/DMO.mindef/pos ... &__tn__=-R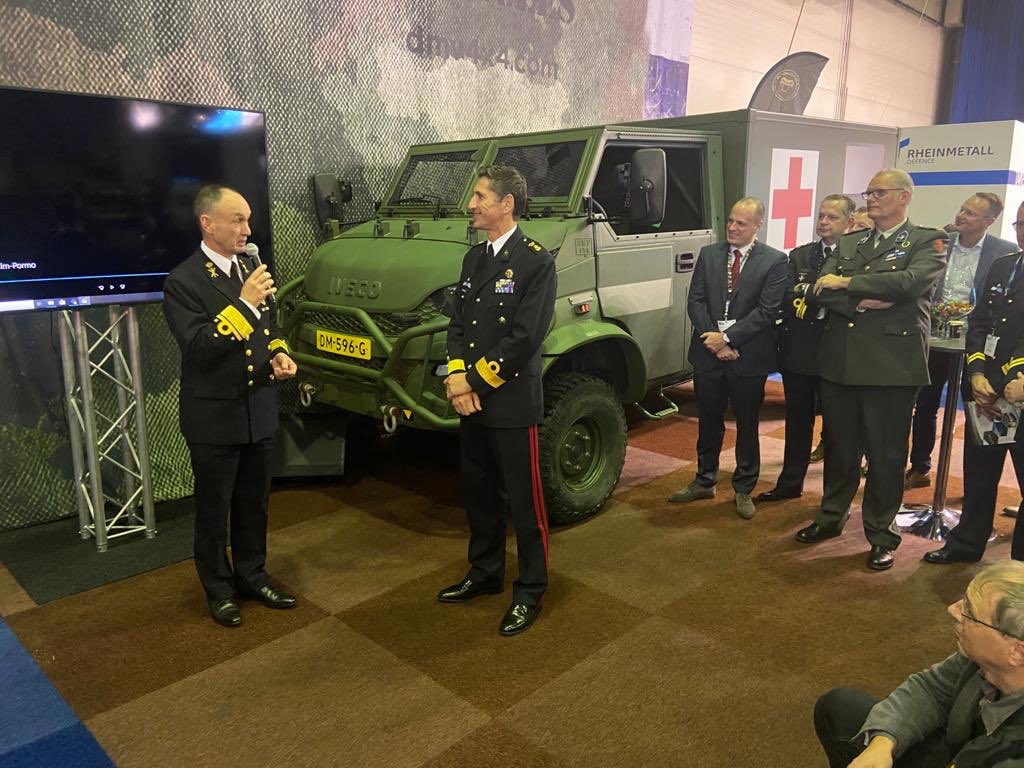 https://twitter.com/ariejandewaard/stat ... 6181688320
https://www.youtube.com/watch?v=C29jsF0 ... e=emb_logo
---
Beiträge: 373
Registriert: Di 24. Apr 2018, 12:51
https://dmv4x4.com/2019/11/29/wereldpremiere/
DOPPELADLER.COM - Plattform für Österreichs Militärgeschichte. Bundesheer | k.u.k. Monarchie | Weitere Themen
---
---