Beiträge: 9203
Registriert: So 29. Apr 2018, 18:13
---
Beiträge: 9203
Registriert: So 29. Apr 2018, 18:13
Insight: All eyes on all-terrain vehicles
As multiple nations discuss the replacement of their all-terrain tracked vehicles (ATTV), Singaporean company ST Engineering spent early March 2019 showcasing its Bronco 3 ATTV to at least five potential customers in Ivalo, Finland, including the UK and Canada.

This follows a meeting in Bonn, Germany in late February in which representatives from the UK, German, Finnish, Netherlands, Norwegian and Swedish MoDs discussed the feasibility of a joint procurement programme for such vehicles.

Several possible platforms were mentioned according to Lars Gjemble, spokesperson for the Norwegian MoD, although he declined to go into further details about the meeting.
'Sweden is interested in a multinational collaboration in order to purchase a new ATV together with other nations within the Bv-family in order to get the best economy of scale as well as interoperability with other European nations,' confirmed Henrik Hedberg, Swedish MoD director of media relations.

With such a large opportunity for vehicle replacement in the export market ST is keen to showcase its offering which has been developed off the back of previous variants of the Bronco and the Warthog variant which was operated under an urgent operational requirement with the British Army.

During the demonstration of the Bronco 3 in Finland, ST Engineering had also hired a Bv206 to test drive in order to provide a comparison to the older variant of ATV.

Speaking to Shephard, Dominic Phoon, VP and product director at ST Engineering, said the company was expecting a 'couple of tenders' for the vehicle soon but mentioned concerns over a multi-nation approach to procurement because of the wide variety of customer requirements.

Indeed, ST Engineering appears to be ready to meet a multitude of customer requirements as the company discussed a wide range of variants of its Bronco 3 from ambulance variants to weaponised capabilities including the Bronco Dawn with a 120mm super rapid mortar system and 12.7mm MG RWS.

Improvements to the Bronco 3, compared with previous variants include the integration of a v-shaped hull, a new 325HP Mercedes engine and has the amount of usable space within the vehicle. The Bronco 3 was first unveiled at Eurosatory 2016.

The company has also sought to reduce the weight of the vehicle, keeping it at 16t, as Phoon noted a 20t vehicle can no longer be classed as 'all-terrain' because of the difficulties the vehicle would have in traversing some softer ground.

The company will be sending its Bronco 3 to the UK before the end of March for further demonstrations. This is being organised by the company and not the MoD.
'BAE System Hägglunds is right now pursuing several BvS10 opportunities in parallel, aiming to be finalised in the near future,' said Thorén Ola, spokesperson for BAE System Hägglunds, declining to comment further.

The company, like ST Engineering, is likely to be eyeing users of the Bv206 and Bv206S vehicles as potential suitors for the BvS10. Like the Bronco 3, the BvS10 comes in a multitude of variants.

However, as to whether a multinational approach will be possible keeping in mind different nations timelines is still to be determined.

The UK already has relatively mature plans when it comes to its new ATTVs and has christened the potential ATV programme the Future All Terrain Vehicle (FATV) requirement as it seeks to replace the Warthog, which was a bespoke Afghanistan requirement, and some 350 Bv206s in Royal Marines service.

Whereas nations like Norway are still at the early stages of replacement.

Indeed, a UK MoD official confirming the Bonn meeting had taken place said that 'it was still very early days' warning that the meeting should be seen as 'a meeting of minds'.

Meanwhile, Norway's inventory of Bv206 ATVs will undergo a service life extension programme, enabling the vehicles to be in operational service until at least 2030.

'For the time being, Norway has no plans to procure such vehicles. However, the MoD is preparing a new long term plan that is to be presented as a White Paper to Parliament in 2020. One element, out of several others, that will be considered is the future operational needs for various types of all-terrain vehicles,' Gjemble told Shephard.

More urgently, older vehicles in the Swedish fleet need to be replaced in the 2020s, according to the MoD.
https://www.shephardmedia.com/news/land ... -vehicles/
---
Beiträge: 9203
Registriert: So 29. Apr 2018, 18:13


Hm ... "framtida anskaffning av #bandvagnar är några prioriterade samarbetsområden". Zu deutsch: "... und die zukünftige Beschaffung von Bandvagn gehören zu den prioritären Bereichen der Zusammenarbeit".
---
Beiträge: 9203
Registriert: So 29. Apr 2018, 18:13
Avsiktsförklaring undertecknad för upphandling av bandvagnar
https://www.fmv.se/aktuellt--press/aktu ... andvagnar/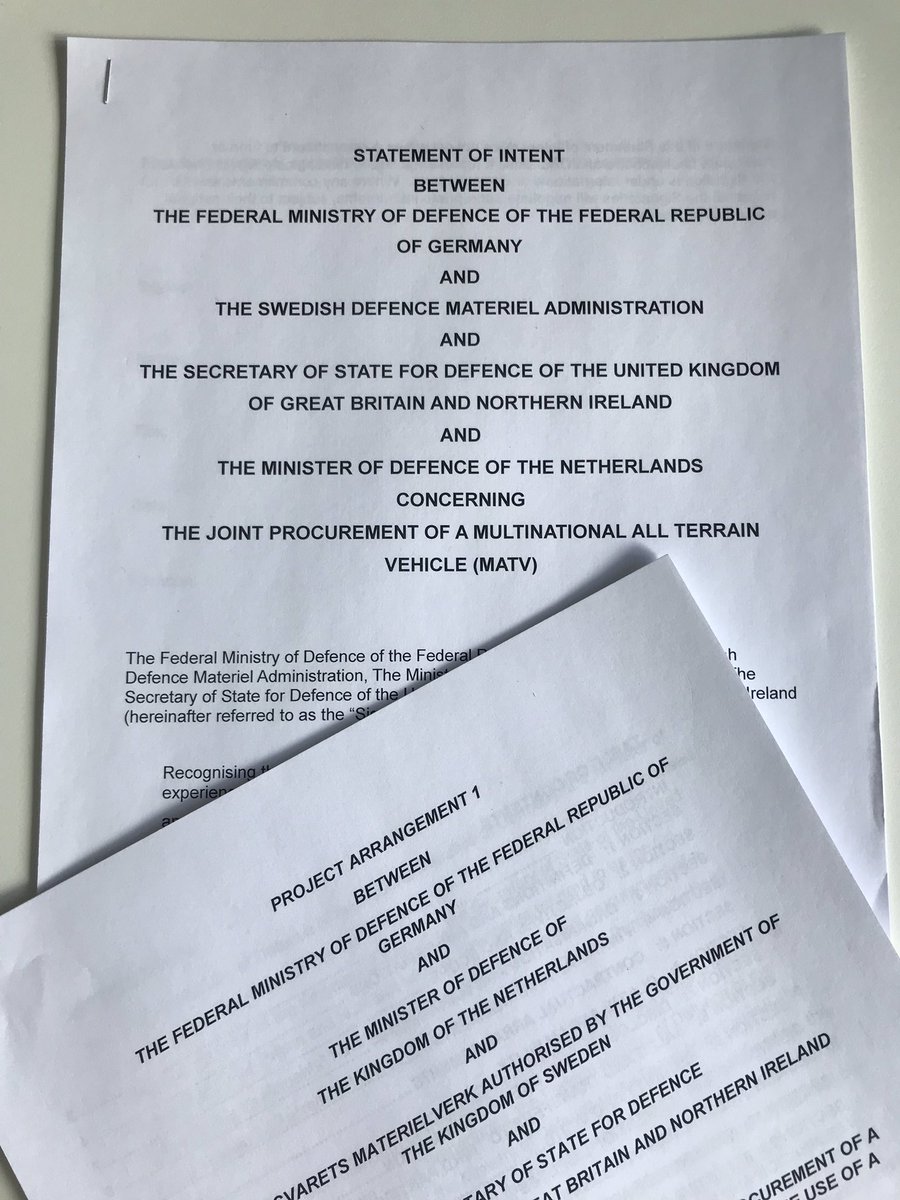 https://twitter.com/MikaelFrisell/statu ... 6334467074
Schweden, Deutschland, die Niederlande und Großbritannien haben ein
Statement of Intent
(
SOI
) als Absichtserklärung zur Beschaffung von Unversalgeländefahrzeugen unterzeichnet. Für Schweden hat am 15. April der Generaldirektor des FMV, Göran Mårtensson, unterschrieben. Als nächster Schritt wird ein
Project Arrangement
ausgearbeitet, das die Umsetzung der gemeinsamen Beschaffung regeln soll.
---
Beiträge: 9203
Registriert: So 29. Apr 2018, 18:13
124 nieuwe rupsvoertuigen voor de mariniers
https://www.defensie.nl/actueel/nieuws/ ... mariniers
Ab 2024 bekommt die niederländische Marineinfanterie 124 neue Universalgeländefahrzeuge, die die Bandvagn 206 D6 und BvS10 Viking ersetzen werden. Die Lieferung soll bis 2027 abgeschlossen sein. Die neuen Fahrzeuge werden mit leichter Panzerung versehen sein. Die Beschaffung kostet zwischen 100 und 250 Mio. €. Es gibt eine Option für weitere Fahrzeuge, womit das Projekt über 250 Mio. € kosten würde.
Im Juli wurde das vor dreieinhalb Jahren begonnene Projekt zur Modernisierung des Bv206 für das Korps Mariniers abgeschlossen. Insgesamt wurden 92 Fahrzeuge generalüberholt:
https://www.facebook.com/matlogco/posts ... ?__tn__=-R
---
Beiträge: 9203
Registriert: So 29. Apr 2018, 18:13
---
Beiträge: 9203
Registriert: So 29. Apr 2018, 18:13
---
Beiträge: 9203
Registriert: So 29. Apr 2018, 18:13
Sweden leads European ATV procurement programme
Brigadier General Mikael Frisell, Director Land Systems at the FMV, the Swedish Defence Materiel Administration, told Janes on 31 March that Sweden is providing the central purchasing body for the single-source procurement of at least 500 ATVs from BAE Systems Hägglunds for SEK10–12 billion (USD1.2–1.4 billion).

In addition to Sweden, the countries involved are fellow BvS10 operators France, Germany, the Netherlands, and the United Kingdom.
Brig Gen Frisell reported that the five nations were harmonising requirements and moving towards an agreement on them so the invitation to tender to Hägglunds could be issued this summer and a draft contract could be ready by early next year, with the final contract award the following summer or autumn. A project office will be established in October and will be staffed by national representatives after the Covid-19 pandemic is over, he said.

The new ATV will be based on the 2022 version of the BvS10. Brig Gen Fisell spoke of a Swedish requirement for 150–200 vehicles: troop transport, logistic, medical, command and control, and probably recovery and support versions. He expected deliveries to the five nations to begin in 2023 and to last a few years, depending on the total number of vehicles ordered, with a life cycle of up 15–20 years, leaving open the possibility of an upgrade during this period. He foresaw industrial co-operation in the five nations but not offsets.
https://www.janes.com/defence-news/news ... -programme
---
Beiträge: 9203
Registriert: So 29. Apr 2018, 18:13
---
Beiträge: 9203
Registriert: So 29. Apr 2018, 18:13
---