Leonardo and PGZ sign letter of intent on the AW249 combat helicopter
Leonardo and Polska Grupa Zbrojeniowa S.A. (PGZ) signed a Letter of Intent (LoI) that will see the two companies collaborate on the AW249, the only new combat helicopter currently being designed, aiming to meet the Polish Army's requirement for a new combat helicopter.

With this LoI, Leonardo and PGZ will explore collaboration in a number of areas including design, manufacturing, final assembly, marketing and aftersales support for the AW249 helicopter.

The document reinforces PGZ and Leonardo's common interest in the development and production of a new combat helicopter, created for the needs of the Italian Army, and its Polish variant which is being considered under Poland's "Kruk" procurement.
The AW249 will feature all the latest technology developments in its market segment and will benefit from the extensive operational expertise logged by Leonardo's AW129 and the know-how of the Company in this specific helicopter sector.

With a MTOW in the range of 7-8 tonne and useful load in excess of 1800kgs, the AW249 will have speed and endurance that is able to sustain the most difficult close air support and armed escort operations. The AW249 will feature state-of-the-art communication and battlefield management systems; its mission system is able to operate and manage UAVs and features a number of situational awareness aids to reduce pilot workload and increase safety. Additionally, thanks to its advanced technologies and design philosophy, the AW249 will have significant improvements in life-cycle costs over previous generation helicopters.

In addition to a turreted gun, the AW249 will have a flexible weapon system with six wing store stations that can carry a combination of air-to-ground or air-to-air missiles, unguided/guided rockets or external fuel tanks. Two powerful engines will allow for operations in all environmental conditions (cold, hot & high and maritime).
http://www.leonardocompany.com/en/-/aw249-pgz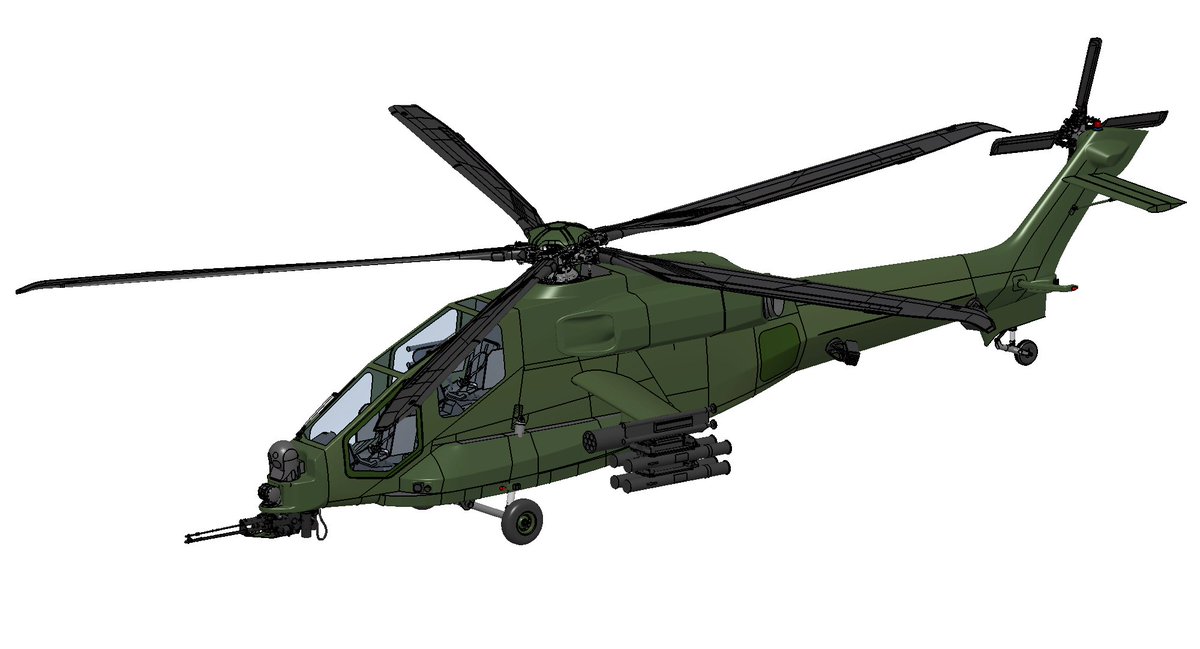 https://twitter.com/AgustaWestland/stat ... 4668766208
Italian Army Report 2017
New Exploration and Escort Helicopter (NEES)

The new exploration and escort helicopter, which is the successor to the currently used Mangusta, will be produced for a total of 48 units. It will guarantee better performance in terms of survival, engagement capability, digital connectivity, autonomy and deployability. Actually, the operational experience acquired over these years has highlighted the need for greater autonomy and load capacity (in terms of fuel, ammunition and weapon systems), a better performing engine and a degree of digital connectivity capable of ensuring interoperability with all land, sea and air military assets, at both national and NATO level.

In January 2017, the Italian Ministry of Defence signed a contract with the LEONARDO S.p.A. company for the first phase of the study, design and experimentation of a new rotorcraft platform. The contract foresees the production and qualification of the first 3 machines by 2025, relying on the resources provided to this day.
http://www.esercito.difesa.it/en/Docume ... PO2703.pdf
Italien: Elicottero da esplorazione e scorta
http://www.doppeladler.com/forum/viewto ... 15&p=57676