French air force outlines requirements for H160M helicopters
The French air force has requested 38 Airbus Helicopters H160Ms as its share of the country's tri-service medium-category rotorcraft acquisition.

To be acquired under the hélicoptère interarmées léger programme, Paris has indicated a total requirement of 169 helicopters, with deliveries to begin around 2025.

All of the air force's H160Ms are to be capable of performing air-to-air refuelling, says Lt Col Eric Goffinon, commander of the service's helicopter component, although it will not require refuelling probes for the entire inventory.

The H160M must be able to receive fuel from both Lockheed Martin KC-130s and Airbus Defence & Space A400Ms. "It is a challenge for Airbus," says Goffinon, "but they are working on it."

With the H160Ms to replace the air force's inventory of H125M Fennec and SA330 Puma helicopters, they are to be equipped for a broad range of missions, including search and rescue, intelligence surveillance and reconnaissance, close air support and air interception.

Those destined for close air support tasks will be equipped with a 20mm cannon and guided rockets.

The air force is also investigating the potential integration of a pilot-controlled 7.62mm gun, to be used for the interception of light aircraft. However, if this cannot be achieved, it will continue to deploy with a sniper on board.

"We want the H160M to be capable of finding and neutralising light aircraft and UAVs," says Goffinon.
https://www.flightglobal.com/news/artic ... el-448858/
Airbus Helicopters has additional HForce customers in its sights
The airframer is in future likely to look at adding HForce to the H160M, he says, again for its French customer.
Goffinon says the air force will use the new 6t-class helicopters to replace aged H125M Fennec and AS330 Puma fleets.

To replicate the missions performed by these legacy types, the H160M will need to be configured for air-to-air refuelling, he says, as well as fielding a specific sensor for air interception missions over major French cities.
https://www.flightglobal.com/news/artic ... -i-448848/
Le H160M sous l'uniforme
(12. Februar 2018)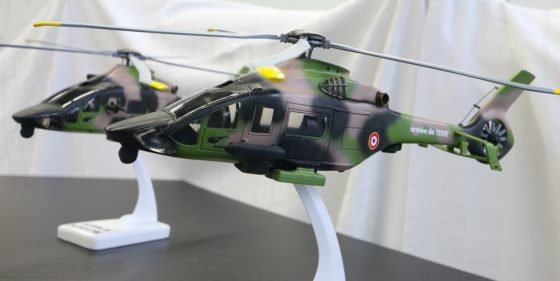 A l'occasion des journées de l'aérocombat organisées à Pau par l'Alat, Airbus Helicopters avait amené le premier prototype du H160.

Airbus Helicopters avait également fait le déplacement avec deux petites maquettes présentant son nouvel appareil de 6 tonnes (estimation de la masse max au décollage) aux couleurs de l'Armée de Terre.
https://www.aerobuzz.fr/breves-defense/ ... luniforme/
Hélicoptère interarmées léger (HIL)
http://www.doppeladler.com/forum/viewto ... f=7&t=4622