Général de Gramont : « Nos soldats, nos missions méritent d'être relayés et valorisés. »
(4. Mai 2018)
2 – Quelles sont les incidences de la future loi de programmation militaire en Nouvelle-Aquitaine ?

L'armée de Terre participe au service militaire volontaire, avec le centre créé à La Rochelle, qui a récupéré les traditions et le drapeau du 57e RI (régiment de tradition de la Ville de Bordeaux). Il devrait voir largement augmenter sa capacité d'accueil de stagiaires sur la durée de la LPM.

Les trains roulants du VBMR léger seront construits à Limoges, pour près de 1000 exemplaires.

Le programme SCORPION impliquera d'importants travaux d'infrastructures techniques à Poitiers, Angoulême, Brive et à Vayres, spécifiquement pour la maintenance.
Auswirkungen des Loi de Programmation Militaire auf Nouvelle-Aquitaine


Bau der Fahrwerke für fast 1000 VBMR léger in Limoges

Ausbau der Infrastruktur für das Programm SCORPION (besonders Wartungseinrichtungen) in Poitiers, Angoulême, Brive und Vayres
3 – Et quid du programme SCORPION dans votre zone ?

Pour l'armée de Terre, la prochaine LPM se traduira principalement par l'accélération du programme SCORPION, programme majeur de modernisation de ses blindés, dont la moyenne d'âge est aujourd'hui d'environ 40 ans. Ce programme est vital pour permettre à l'armée de Terre de tenir son rang pour contribuer à la défense de l'Europe et pour maintenir ses engagements opérationnels sur des théâtres extérieurs exigeants, dans des conditions de sécurité optimales pour les troupes engagées.

Au-delà de l'aspect matériel, c'est bien l'ensemble des forces terrestres qui seront révolutionnées par ce « système de systèmes », à travers les systèmes d'information et de commandement, l'info-valorisation et la simulation. Avec cette accélération du programme SCORPION, la loi de programmation militaire 2019-2025 est bien une LPM de renouveau pour une armée de Terre de haute technologie.

En Nouvelle-Aquitaine, le 126e régiment d'infanterie (126e RI) de Brive devrait recevoir, à terme, 35 GRIFFON

.

Ce véhicule blindé multi-rôles doit remplacer le véhicule de l'avant blindé (VAB). Il a pour mission l'appui et le transport de l'infanterie au plus près des combats.

Le régiment d'infanterie chars de marine (RICM) de Poitiers et le 1er régiment d'infanterie de marine (1er RIMa) d'Angoulême recevront plus tard 18 exemplaires du JAGUAR

, engin blindé de reconnaissance et de combat qui remplacera l'AMX 10 RC et qui, par sa polyvalence, peut s'intégrer dans un combat en zone urbaine.

Ils recevront aussi chacun 9 GRIFFON

.
Beschleunigung des Programms SCORPION mit dem Loi de Programmation Militaire 2019-2025
Auslieferung von Fahrzeugen aus dem Programm SCORPION an Einheiten in Nouvelle-Aquitaine:


126e Régiment d'Infanterie (126e RI) in Brive


Régiment d'Infanterie de Chars de Marine (RICM) in Poitiers


1er Régiment d'Infanterie de Marine (1er RIMA) in Angoulême

https://www.defense.gouv.fr/terre/actu- ... -valorises
Essai vibratoire sur un canon 40 CTAS / vibratory test on a 40 CTAS machine gun
https://sopemea.fr/en/actualite-en-2/so ... atory-2018
16. März 2018
https://www.facebook.com/permalink.php? ... 9352850351
https://sopemea.fr/en/non-classe-en/mai ... -equipment
Signature d'un contrat pour les VBMR légers
A l'occasion de sa visite du site industriel de la société Nexter à Roanne (Loire) le lundi 12 février 2018, Florence Parly, ministre des Armées, a annoncé l'attribution du contrat du véhicule blindé multi-rôles léger (VBMR léger) à Nexter en co-traitance avec Texelis. Ce marché passé par la Direction générale de l'armement (DGA) comprend le développement, la réalisation et le soutien de ce nouveau véhicule destiné à l'armée de Terre. Le projet de Loi de programmation militaire 2019-2025 prévoit un parc de plus de 2000 VBMR légers à l'horizon 2030, dont 689 livrés d'ici 2025.
Montag, 12. Februar 2018


Besuch von Verteidigungsministerin Florence Parly in der Fabrik von Nexter in Roanne (Loire)

Ankündigung der Auftragsvergabe für das Véhicule Blindé Multi-Rôles Léger (VBMR léger) an NEXTER, in Zusammenarbeit mit Texelis

Entwicklung, Fertigung und Support des Fahrzeugs

Das Loi de Programmation Militaire 2019-2025 sieht bis 2030 mehr als 2000 VBMR légers vor, von denen 689 bis 2025 geliefert werden sollen
Véhicule blindé 4x4 de l'ordre de 15 tonnes, le VBMR léger embarquera jusqu'à 10 soldats équipés du système Félin. Il intégrera divers équipements communs aux véhicules Scorpion, en particulier le cœur électronique du véhicule, une mitrailleuse téléopérée depuis l'habitacle, des détecteurs de menaces ainsi que le système d'information du combat Scorpion (SICS). Ils lui permettront de s'intégrer dans le réseau des véhicules Scorpion. Le VBMR léger sera décliné en 4 versions principales : patrouille, renseignement et reconnaissance, relais de communications, guerre électronique. Les premières livraisons de la version de référence (patrouille) sont prévues d'ici 4 ans.
VBMR léger


Besatzung: bis zu 10 Soldaten, ausgestattet mit dem System Félin

Ausstattung:


Gemeinsame Ausstattung der Fahrzeuge aus dem Programm Scorpion (u.a. elektronisches Kernsystem des Fahrzeugs)

Ferngesteuerte Waffenstation

Sensoren zur Detektion von Bedrohungen

Système d'Information du Combat Scorpion (SICS)

4 Varianten:


Beobachtung und Aufklärung

Elektronische Kampfführung

Erste Lieferung von Fahrzeugen in der Patrouillenvariante in vier Jahren (2022)
https://www.defense.gouv.fr/dga/actuali ... bmr-legers
CP_DEVELOPPEMENT DU VEHICULE BLINDE MULTI-ROLES LEGER
https://www.defense.gouv.fr/salle-de-pr ... oles-leger
Discours_Roanne_12/02/18 Allocution devant les employés de l'usine Nexter de Roanne
https://www.defense.gouv.fr/salle-de-pr ... -de-roanne
https://www.facebook.com/MinistereDesAr ... 13/?type=3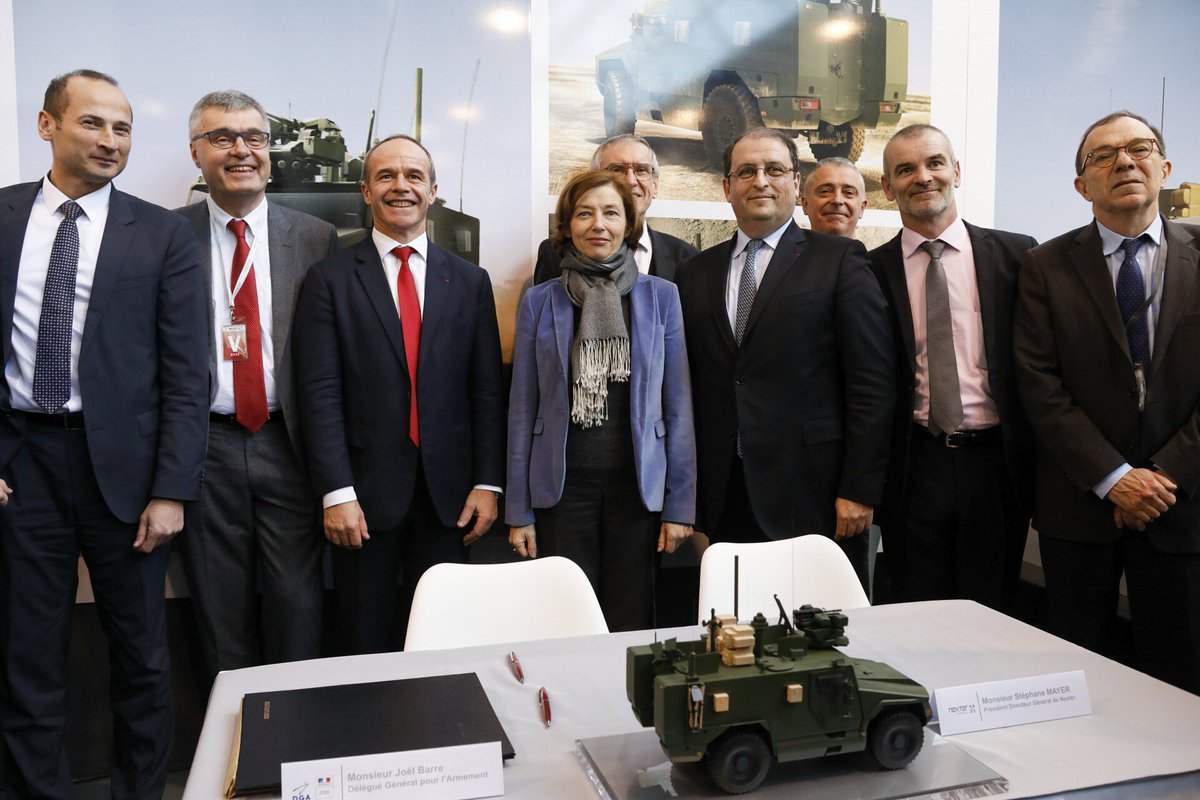 https://twitter.com/florence_parly/stat ... 5004329985
Nexter et Texelis remportent le marché VBMR Léger
http://www.nexter-group.fr/fr/component ... vbmr-leger
http://www.texelis.com/index.php/fr/a-p ... vbmr-leger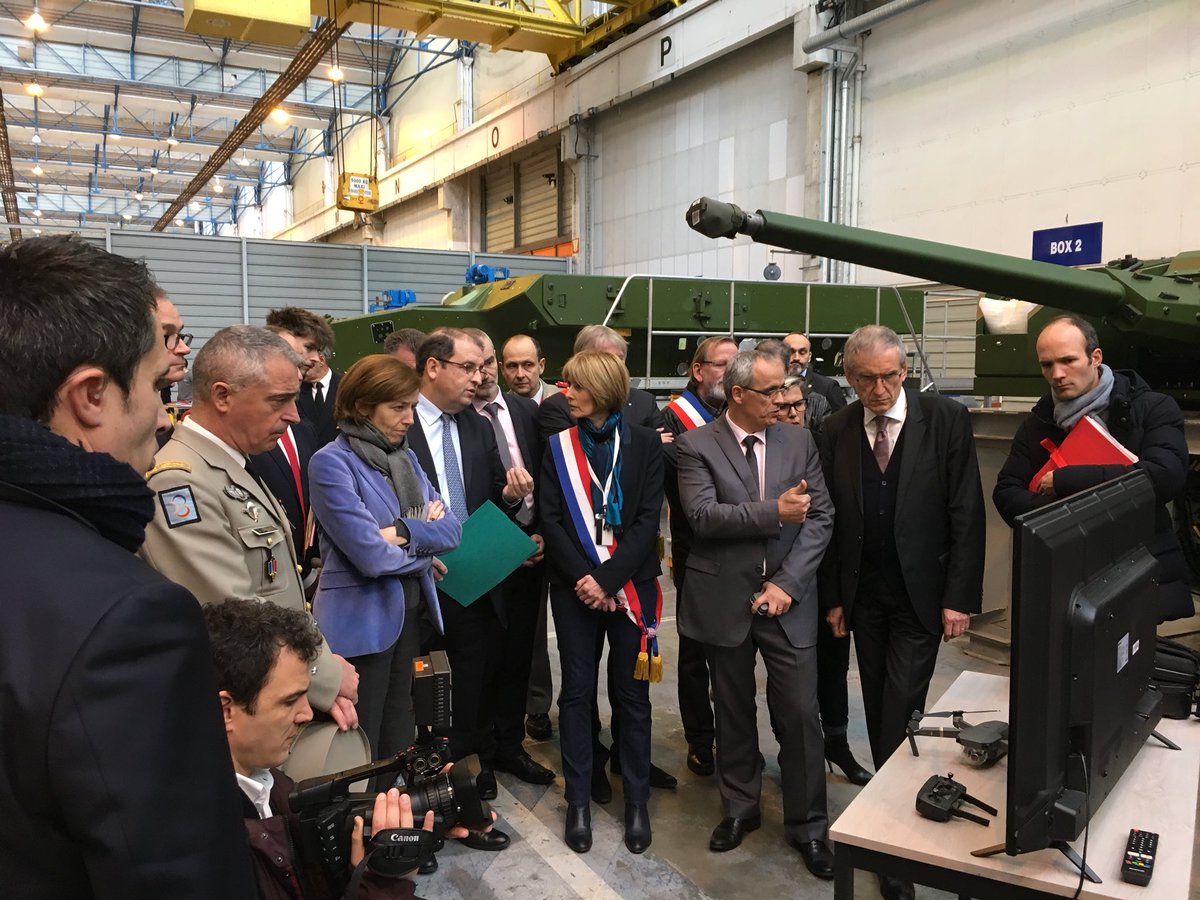 https://twitter.com/bleustetienne/statu ... 9820331015
La ministre des Armées chez Nexter à Roanne avec de très bonnes nouvelles
https://www.francebleu.fr/infos/economi ... 1518467383
Roanne : le carnet de commande de Nexter est blindé d'ici 2030
http://www.activradio.com/roanne-le-car ... dici-2030/
Roanne (Loire) - Une importante commande de matériel militaire pour le site Nexter
https://france3-regions.francetvinfo.fr ... 22493.html
Armed Forces Minister Florence Parly visits the Nexter company in Roanne
https://www.nurphoto.com/en/gallery/135708/masonry
https://www.gettyimages.de/fotos/army-f ... stpopular#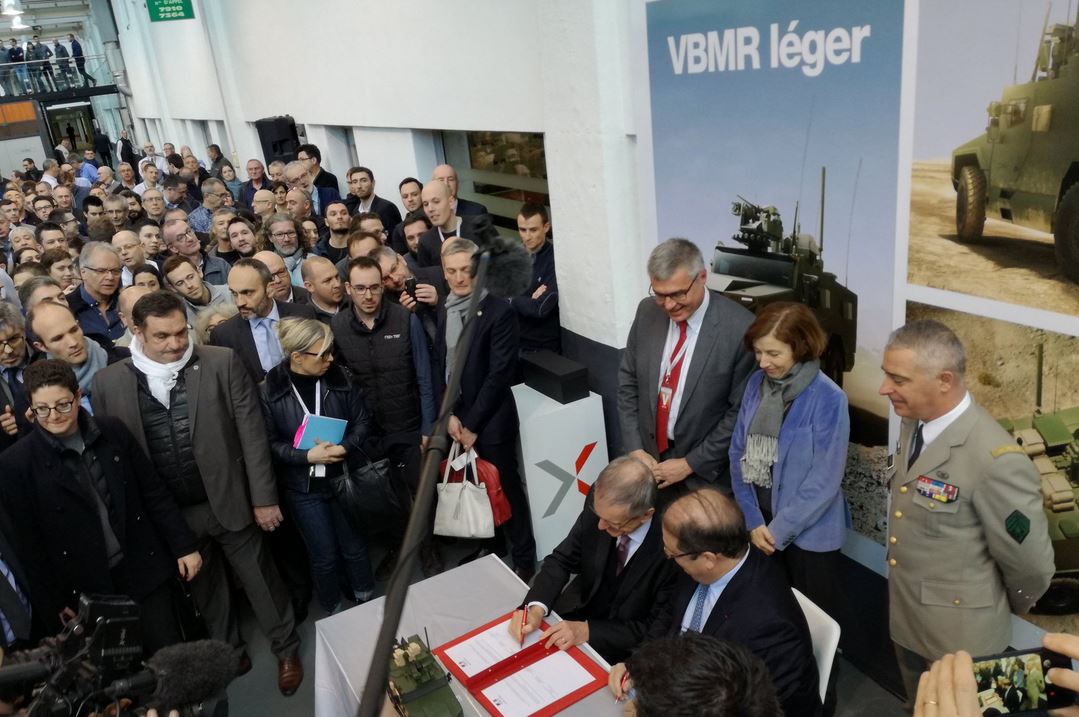 https://twitter.com/Prefecture42/status ... 8879486977
French deal with Nexter, Texelis to provide 'operational superiority'
That contract for Nexter and Texelis was estimated to be worth some €1.2-1.3 billion (U.S. $1.5-1.6 billion), according to a defense executive, who spoke on condition of anonymity.

Nexter will supply the armored chassis, while Texelis will ship axles and drive trains for mobility packages.

There will be separate contracts for Thales and Renault Trucks Defense. Thales will supply the Antares opto-electronic system for situational awareness, while RTD will provide remote weapon systems with machine guns, the executive said. That will be government-furnished equipment shipped to Nexter for fitting into the vehicles.

The total value of the Light VBMR program could be some €2 billion, the executive said.
https://www.defensenews.com/land/2018/0 ... periority/
Général Grintchenko : « l'ALAT sera au rendez-vous de l'engagement du premier GTIA SCORPION »
(8. Februar 2018)
3 - En quoi la mise en place de SCORPION fera évoluer l'ALAT ?

Globalement, ma préoccupation est que cette métamorphose soit cohérente avec celle de nos hélicoptères, pour que la modernisation des forces terrestres ne sépare pas à nouveau, pour des questions essentiellement de compatibilité technique, ce que nous avons eu beaucoup de difficultés à réunir. C'est un vaste chantier qui demande une très grande attention.

L'ALAT s'inscrit dans le programme SCORPION tout particulièrement avec la montée en puissance de sa numérisation, pierre angulaire du combat SCORPION. Ainsi, si le renouvellement des parcs d'aéronefs a débuté avec la livraison du premier TIGRE en 2005 et se poursuit avec celle des CAÏMAN, le développement des équipements de numérisation, entamé depuis les années 2000, s'inscrit dorénavant en totale cohérence avec ceux de l'armée de Terre.

Le système d'information du combat de Scorpion (SICs) équipera prochainement l'ALAT ainsi que le poste « contact » et l'interopérabilité devra être maintenue sans rupture afin que l'aérocombat puisse continuer d'être au plus près de ses camarades de l'interarmes sur chaque théâtre d'opérations.

Par ailleurs, l'aéronef de l'armée de Terre s'inscrit également dans SCORPION dans l'amélioration de ses équipements d'autoprotection, indispensables à la protection des équipages qui vont au contact de l'ennemi.

Enfin, le combat SCORPION va développer tout particulièrement l'engagement collaboratif. L'ALAT s'inscrit parfaitement dans cette orientation nouvelle, à la fois en raison de sa capacité à réagir à une mission nouvelle en cours d'action mais aussi car elle dispose d'armements offrant d'excellentes capacités de tirs collaboratifs, comme cela a été déjà mis en œuvre en opérations. Concrètement, une munition tirée par un véhicule terrestre doit pouvoir être guidée par un aéronef, et vice-versa.
ALAT (französische Heeresflieger) wird mit dem Systeme d'Information du Combat de Scorpion (SICS) und dem Funkgerät "Contact" ausgestattet, um die Interoperabilität bei der Luftunterstützung mit den anderen Teilstreitkräften aufrechtzuerhalten.
Fluggeräte der Armée de Terre werden im Rahmen von SCORPION mit verbesserten Selbstschutzsystemen ausgestattet
SCORPION soll zum verbundenen Kampf befähigen. Eine von einem Bodenfahrzeug aus verschossene Lenkwaffe kann auch von einem Luftfahrzeug gelenkt werden und umgekehrt.
https://www.defense.gouv.fr/terre/actu- ... a-scorpion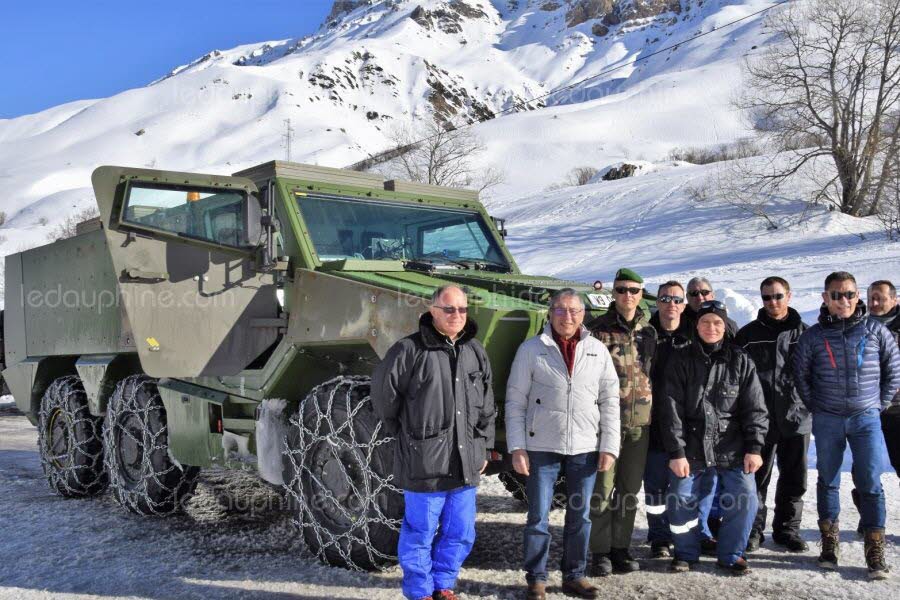 https://twitter.com/Marsattaqueblog/sta ... 9691452416
Sacré bleu! Should we be more like the French?
https://quillorcapture.com/2017/08/24/s ... he-french/
https://www.usinenouvelle.com/article/n ... te.N548998
Enter the Scorpion: French Army vehicle fleet modernisation
Known as Scorpion (Synergie du contact renforcée par la polyvalence et l'infovalorisation), the plan calls for the complete replacement or renovation of all of the army's frontline combat vehicles at the same time and the linking of these with a new and unified communications and battlefield management system (BMS).

The project was begun by the French Army Staff and the Direction Générale de l'Armement (DGA) in 2000 with a lengthy trial period lasting almost 15 years. In total over EUR200 million (USD224 million) was spent conducting studies and analysing the operational experience of the precursor networked technologies found within the FELIN soldier system and the electronic architectures of the Véhicule Blindé de Combat d'Infanterie (VBCI) 8x8 infantry fighting vehicle (IFV).
Griffon

By far the largest vehicle order being purchased under the Scorpion programme is for the Griffon 6x6 armoured personnel carrier (APC). Developed under the Véhicule Blindé MultiRole (VBMR) project, some 1,722 Griffon vehicles are planned. These will replace the Véhicule de l'Avant Blindé (VAB) 4x4, which in 2016 marked 40 years of service in the French Army and which army staff say is now "twice the age of its drivers".

With a maximum gross vehicle weight (GVW) of 24.5 tonnes and carrying up to 10 personnel, the Griffon will be the workhorse of the GTIAs. It is expected to have a range of 800 km, or an endurance for some three days of operations, and will be 7.2 m long, 2.62 m high, and 2.55 m wide.
Jaguar

The 'eyes and ears' of the GTIAs will be the new Jaguar 6x6 reconnaissance vehicle, developed under the Engin Blindé de Reconnaissance et de Combat (EBRC) project. In total France is planning to buy 248 Jaguars to replace the AMX-10RC and ERC 90 Sagaie 6x6 reconnaissance vehicles and the VAB 'Mephisto' variant armed with the HOT anti-tank guided missile, all of which will be over 40 years old when replaced.

The Jaguar is fitted with a two-man turret armed with the powerful and compact Anglo-French CTAI Case Telescoped Armament System 40 mm cannon and two ready-to-fire MBDA Missile Moyenne Portée anti-tank missiles (being developed to replace the MILAN and HOT anti-tank missiles in French service). Two missiles will be mounted in an elevating launcher within the turret, while two reload missiles will also be carried.
http://www.janes360.com/images/assets/5 ... sation.pdf
Press release

Argenteuil, 14 July 2015

THE SCORPION PROGRAMME'S MULTIPURPOSE ARMOURED VEHICLE CONTRACT AWARDED TO ELNO INTERPHONES

The ELIPS, a next-generation intercom developed by ELNO, has been selected by Thales for its GRIFFON and JAGUAR vehicles under the multi-purpose armoured vehicle contract for the SCORPION programme, launched by the Direction Générale de l'Armement (French Defence Procurement Agency ).

The ELIPS will be integrated into the Thales vehicle electronics system for future French army vehicles.

ELIPS:

The ELIPS system, the development of which was funded entirely by ELNO, is a full duplex communications intercom on an IP bus. It is the first Intercom over Internet Protocol to meet STANAG requirements. The system is decentralized and thus functions without a central processing unit. All the intelligence that the system contains is distributed to each unit.

ELIPS meets the present and future requirements of armies in terms of harmonising their operational and engagement capacities. It supports platform modularity through:

the variable number of operator units connected within the same vehicle;

the configuration of the services allocated to each operator on the basis of the current mission;

the use of a standard non-dedicated multimedia IP bus, with each operator unit interfacing in the same way as a network device.

ELIPS TM is equally suitable for use in the simplest and the most complex configurations. It can be used in any wheeled or tracked vehicles for command, reconnaissance, support or troop transportation missions and is particularly suitable for command shelter, radar gun or missile configurations.

About ELNO

ELNO, a 100% French-owned SMI founded in 1927, generates average annual sales of 20 million euros and has a total workforce of 120, based at its French site in Argenteuil (95). The company's German subsidiary ELNO GmbH, based near Munich, handles technical and marketing support for German-speaking customers.

ELNO controls the entire value chain, from Research & Development to Marketing. ELNO designs its products in its own laboratories, assembles them in-house and then sells them on a global market (exports represent 50% of its sales).

ELNO's core technology is electroacoustics, combining sensors with electronics and signal processing.

ELNO concentrates on three main business sectors: defence, transport and civil aeronautics.
http://www.elno.fr/en/company/news.html?start=18
Fr: Projekt Scorpion modernisiert das Heer
http://www.doppeladler.com/forum/viewto ... f=7&t=2114
http://web.archive.org/web/201805171940 ... f=7&t=2114