AUSA 2018: General Dynamics swoops in with 50mm-equipped Griffin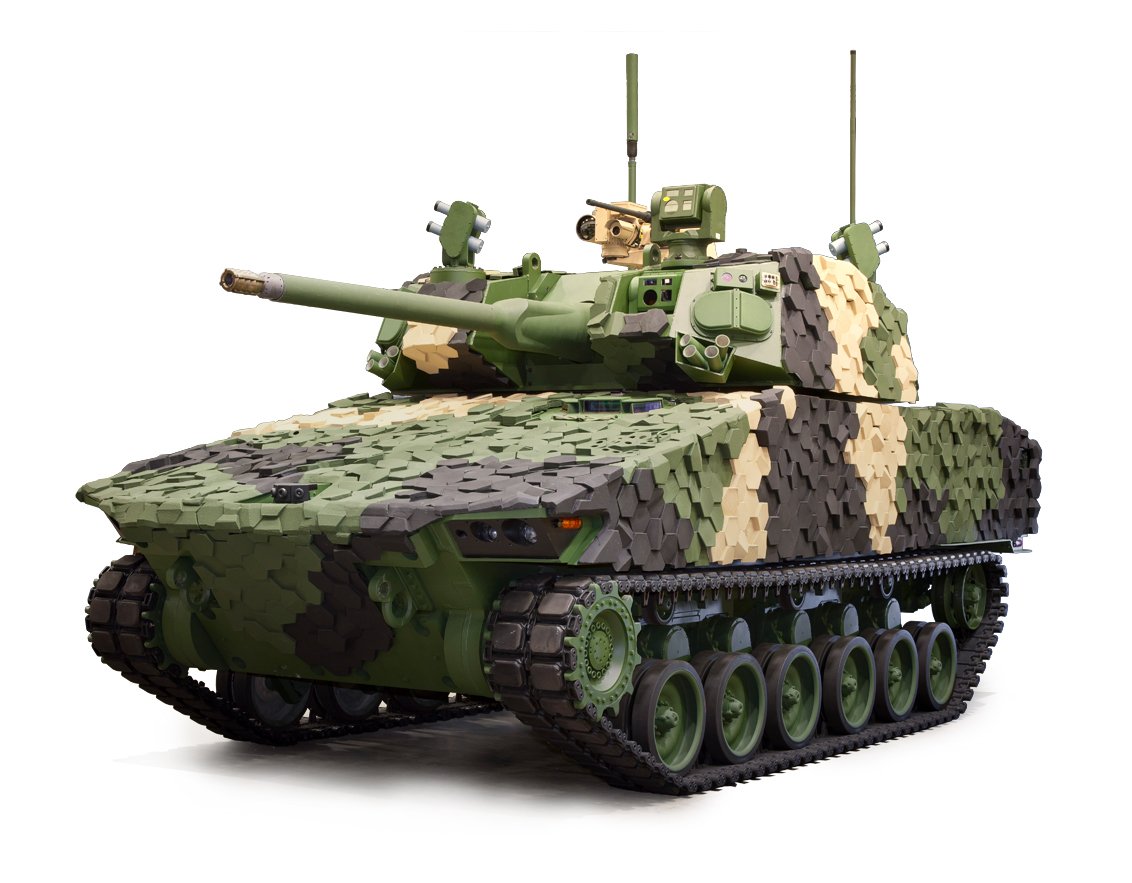 https://twitter.com/ShephardNews/status ... 1906128896
General Dynamics Land Systems (GDLS) has unveiled its new Griffin III technology demonstrator, which the company is hoping will help the US Army inform future requirements for the service's Next Generation Combat Vehicle.

Making its debut at the AUSA 2018 exhibition in Washington DC, the vehicle is based on an ASCOD chassis and incorporates a newly-developed autoloading turret with a 50mm cannon developed by the US Army's Armament Research, Development and Engineering Center.

The vehicle builds on work already carried out by GDLS on the US Army's Mobile Protected Firepower programme, where the company is offering the Griffin II. The second iteration of the Griffin platform features a modified Abrams turret with a 105mm gun.

The Griffin III on display at AUSA would be able to accommodate up to six soldiers and, depending on developments in areas such as artificial intelligence, could be operated by a crew of just two.

According to Mike Peck, the director of BD at GDLS, the turret design including the width and height has been heavily influenced by the large developmental 50mm gun.

The turret is the same width as the vehicle itself, owing to the large dimensions of the ammunition, while the height of the vehicle is increased to enable the barrel to elevate up to +85 degrees. The barrel can also drop to -20 degrees in elevation.

Peck told Shephard firing trials of the gun and turret would likely take place next summer, although not on a vehicle chassis. Design of the turret has taken around a year and a half, and if necessary can incorporate an already-qualified 30mm gun if required.
The vehicle's gross vehicle weight is 'a little less than 40t', although this is without additional armour, added according to Peck.

The platform on display at AUSA also featured an Iron Fist Active Protection System, along with a unique hexagonal camouflage called Tacticam from Armorworks that is designed to reduce a vehicle's signature. Other features of the turret includes cannisters for loitering munitions, as well as advanced optics in the form of Wescam's MX-GCS.

Vehicle situational awareness and protection are also improved through the integration of an all-round vision system and laser warning sensors.
https://www.shephardmedia.com/news/land ... uipped-gr/
https://www.facebook.com/generaldynamic ... &__tn__=-R
AUSA 2018: Army pursues expanded vision for NGCV
(7. Oktober 2018)
The US Army is implementing a significant change to its Next Generation Combat Vehicle (NGCV) programme.

A new expanded structure was unveiled during a breakout session at the recent 2018 Maneuver Warfighter Conference, held at the Maneuver Center of Excellence, Ft. Benning, Georgia.

In a briefing hosted by Brig Gen Ross Coffman, director of the army's NGCV Cross Functional Team, attendees learned that the NGCV programme is taking a new direction, expanding beyond the manned and unmanned platform elements that had been incorporated previously in the NGCV portfolio to encompass a broader spectrum of both current and notional systems.

Under the new design, NGCV will now encompass five programmes: Bradley Replacement; Robotic Combat Vehicle; Armored Multipurpose Vehicle; Mobile Protected Firepower; and Abrams Replacement.
https://www.shephardmedia.com/news/land ... sion-ngcv/
Das ist momentan die einzige Quelle mit einigen wenigen technischen Daten zum Laserwarnsystem UTC Aerospace Systems AN/VVR-4:
Technology Systems Book
https://web.archive.org/web/20181008210 ... logies.pdf
Das Rundumsichtsystem stammt von Rheinmetall Defence Electronics:
Und die Waffenstation ist eine
Kongsberg PROTECTOR RWS Low Profile
:
https://www.kongsberg.com/en/kds/produc ... owprofile/
Die sechs Läufräder wollen mir nach den Versuchen des Amts für Wehrtechnik mit den ASCOD-Prototypen PT2 und PT3, Anfang der 90er, nicht ganz einleuchten:
Proceedings of the European ISTVS Conference (6th) , OVK Symposium (4th), On 'Off Road Vehicles in Theory and Practice' , Held at Vienna, Austria on 28-30 September 1994 in Vienna, Austria. Volume 1.

http://www.dtic.mil/docs/citations/ADA288768
ENGELER Andrä:

Parallel Tests with a 6 and 7 Roadwheel Tracked Vehicle

, in: Proceedings of the European ISTVS Conference (6th), OVK Symposium (4th), on "Off Road Vehicles in Theory and Practice". Held at Vienna, Austria on 28-30 September 1994. Volume 2.


Abstract:

In the course of the developement of the infantery fighting vehicle "ASCOD", the Military Technology Agency carried out mobility tests in autumn 1993. The test objects were the infantery fighting vehicle prototypes ASCOD PT3 with a set of 7 roadwheels (each side)and ASCOD PT2 with a set of 6. The purpose of the test was to assess the advantages and disadvantages of a 7th set of roadwheels.

13. Rolling Resistance

On soft clay we found a great difference between PT3 and PT2.The advantages of the increase of ground contact length and the better force distribution are decisive in soft ground conditions.

Summary

The parallel test of the prototypes 2 and 3 of the ASCOD showed the advantages of the 7th roadwheel set, especially on soft ground like clay. In another test in Norway the same effects were observed on snow. The modification was not simply the addition of a 7th set of roadwheels; the suspension was tuned, too. Besides the cost of the additional elements a small problem was found. The close spacing of the wheels made it nececcary to mount the wheel arms in such a way that they turn in the same direction, so the vehicle sometimes had pitch problemes. The ground clearance of the vehicle front and rear was not always the same. In conclusion we can say that the modification from PT2 to PT3 was sucessful and resulted in a remarkable increase of off-road mobility.

http://www.dtic.mil/docs/citations/ADA288766
Proceedings of the European ISTVS Conference (6th), OVK Symposium (4th), on "Off Road Vehicles in Theory and Practice", Held at Vienna, Austria on 28-30 September 1994. Appendix.

http://www.dtic.mil/docs/citations/ADA288767
___________________________________________________________________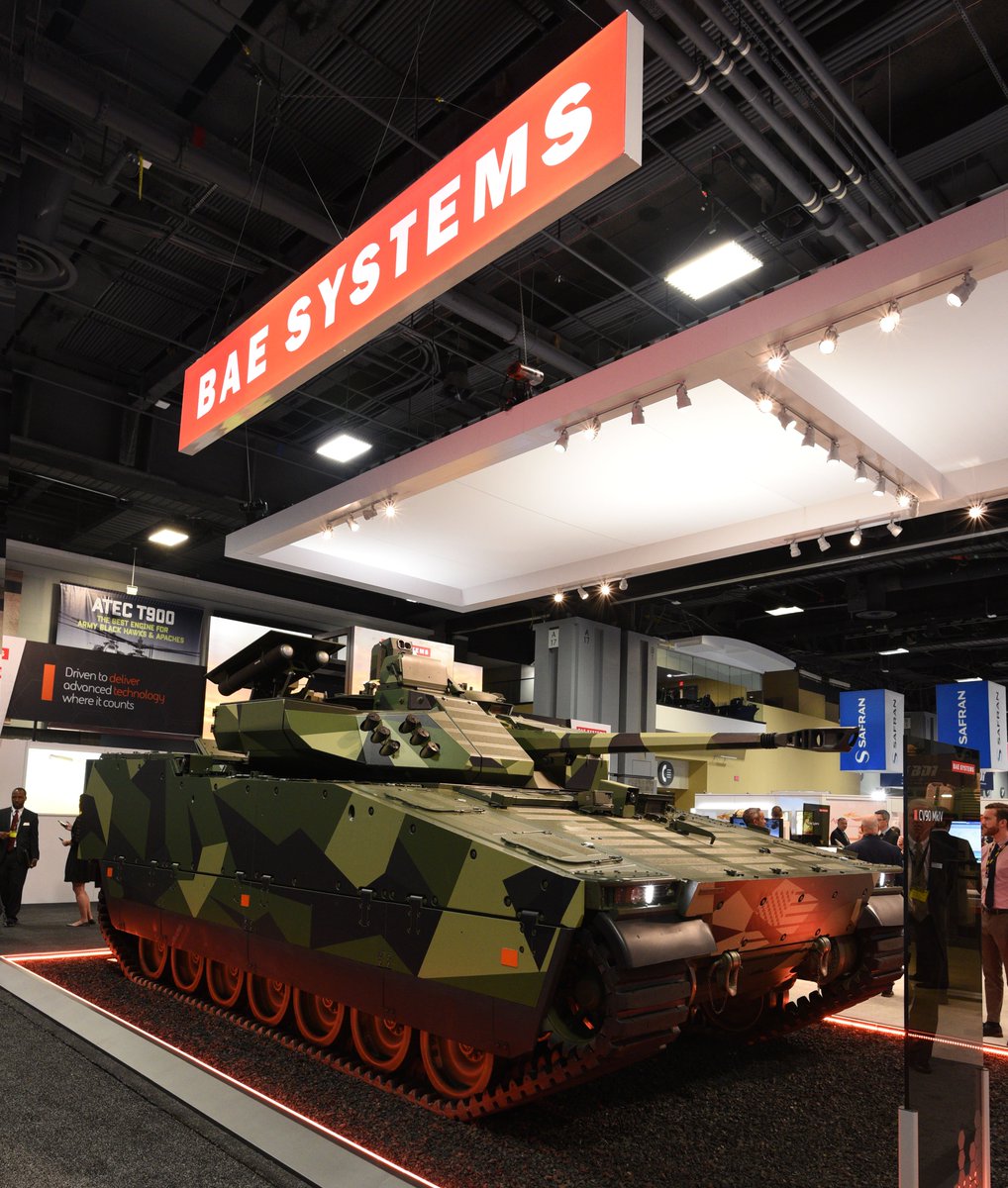 https://twitter.com/BAESystemsInc/statu ... 7346361344
Preparing for future battlefields: The Next Generation Combat Vehicle
(17. September 2018)
By Bob Purtiman, NGCV Cross-Functional Team
This is a challenge for the Next Generation Combat Vehicle Cross-Functional Team, or NGCV CFT, to solve. The NGCV CFT was established as part of the Army's modernization strategy and is currently led by Brig. Gen. Ross Coffman. The team consists of hand-selected military and civilian personnel, who are charged with narrowing or closing Cross Domain Maneuver capability gaps. The team is well supported by Program Executive Office-Ground Combat Systems and Research, Development and Engineering Command leaders and representatives. The CFT serves as the primary Army integrator for Under Secretary of the Army/Vice Chief of Staff of the Army and Army Requirements Oversight Council decision for all supporting analysis, modeling, simulation and technical demonstrations. The NGCV CFT director, on behalf of the USA/VCSA, synchronizes the capability development process, and then rapidly transitions the requirement to a leader-approved capability into the Army Acquisition System.
The current NGCV CFT portfolio encompasses the Armored Multi-Purpose Vehicle, or AMPV; Mobile Protected Firepower, or MPF; Optionally Manned Fighting Vehicle, or OMFV; future robotic combat vehicles, or RCV; and the next generation main battle tank.

The AMPV and MPF are well on their way through the acquisitions process -- the AMPV is in Limited User Tests, and the Joint Requirements Oversight Council has recently approved the MPF's Capabilities Development Document. The team's current focus in on the OMFV, which will replace the Bradley Fighting Vehicle, while also overseeing the maturation of robotic combat vehicle and main battle tank technologies.

In future close combat formations, units equipped with NGCV must maneuver effectively in unrestricted, restricted, and dense urban terrain. The NGCV-OMFV will be designed to maneuver Soldiers in the future operating environment to a position of advantage to engage in close combat and deliver decisive lethality during the execution of combined arms maneuver. NGCV must exceed current capabilities while overmatching similar threat class systems. It must have the following capabilities:

Optionally manned. It must have the ability to conduct remotely controlled operations while the crew is off platform.

Capacity. It should eventually operate with no more than two crewmen and possess sufficient volume under armor to carry at least six Soldiers.

Transportability. Two OMFVs should be transportable by one C-17 and be ready for combat within 15 minutes.

Dense urban terrain operations and mobility. Platforms should include the ability to super elevate weapons and simultaneously engage threats using main gun and an independent weapons system.

Protection. It must possess requisite protection to survive on the contemporary and future battlefield.

Growth. It will possess sufficient size, weight, architecture, power, and cooling for automotive and electrical purposes to meet all platform needs and allow for pre-planned product improvements.

Lethality. It should apply immediate, precise and decisively lethal extended range medium caliber, directed energy, and missile fires in day/night all-weather conditions, while moving and/or stationary against moving and/or stationary targets. The platform should allow for mounted, dismount, and unmanned system target handover.

Embedded Platform Training. It should have embedded training systems that have interoperability with the Synthetic Training Environment.

Sustainability. Industry should demonstrate innovations that achieve breakthroughs in power generation and management to achieve increased operational range and fuel efficiency; increased silent watch, part and component reliability, and significantly reduced sustainment burden.
https://www.army.mil/article/211236/pre ... at_vehicle
2018 NDIA GROUND VEHICLE SYSTEMS ENGINEERING AND TECHNOLOGY
AUGUST 7-9, 2018 - NOVI, MICHIGAN
The Next Generation Combat Vehicle Electrical Power Architecture (NGCVEPA): An Overview
https://events.esd.org/wp-content/uploa ... erview.pdf
US Army Research Laboratory
High-Performance Computing for the Next Generation Combat Vehicle
June 2018
http://web.archive.org/web/201810082214 ... N-0891.pdf
Ground Combat Vehicles and The Operational Environment Through 2030
PEO GCS Modernization Efforts
https://plsadaptive.s3.amazonaws.com/ec ... 6893563da1
Chattahoochee Valley / Ft Benning AUSA & MCoE
Industry Day 2018
NGCV Industry Day Brief
https://fortbenningausa.org/wp-content/ ... m_2018.pdf
The Army Science & Technology Program
https://ndiastorage.blob.core.usgovclou ... gleton.pdf
Army's S&T Investment in Ground Vehicle Robotics
10 Apr 2018
https://ndiastorage.blob.core.usgovclou ... llsPT1.pdf
Initial prototypes for Next-Gen Combat Vehicle to focus on manned-unmanned teaming
(23. März 2018)
As the Army drives toward a Next-Generation Combat Vehicle capability, leaders have outlined plans to test key features that could one day allow a Soldier to control several robotic fighting vehicles at once.

An initial set of six experimental prototypes for the NGCV -- two manned and four robotic combat vehicles -- is slated to be delivered by the end of fiscal year 2019. That delivery will kick off hands-on testing with Soldiers in early fiscal 2020.

Manned-unmanned teaming will be the major theme in the experiments, according to Col. Gerald Boston, deputy director of the Cross-Functional Team in charge of developing the vehicle.
Two more sets of experimental prototypes will then be delivered two years apart and build on previous findings. The process, leaders say, could accelerate the Army's fielding of a new combat vehicle in fiscal year 2028. That's something the NGCV CFT's director, Brig. Gen. David Lesperance, said can't happen soon enough.
https://www.army.mil/article/202614/ini ... ed_teaming
The Army Science & Technology Program
Jeffrey D. Singleton
Director for Technology
Office of the Deputy Assistant Secretary of the Army
Research and Technology
20 March 2018
https://ndiastorage.blob.core.usgovclou ... gleton.pdf
MCoE Industry Day
Mounted Requirements
https://fortbenningausa.org/wp-content/ ... eakout.pdf
Next Generation Combat Vehicle Industry Day
(Präsentationen)
March 29, 2017
http://datc.saeitc.org/events/ngcv-p_ind_day.pdf
___________________________________________________________________