Hinweis: Sie befinden sich im Archiv des alten Forums von DOPPELADLER.COM. Dieses Forum wird nicht länger betrieben. Es ist nur mehr Lesezugriff möglich.
Sie erreichen das DOPPELADLER.COM FORUM nun unter ...

https://www.doppeladler.com/da/forum/index.php
Beiträge: 20984
Registriert: 09. Sep 2008, 22:29
[phpBB Debug] PHP Warning: in file [ROOT]/vendor/twig/twig/lib/Twig/Extension/Core.php on line 1275: count(): Parameter must be an array or an object that implements Countable

---
Beiträge: 20984
Registriert: 09. Sep 2008, 22:29
[phpBB Debug] PHP Warning: in file [ROOT]/vendor/twig/twig/lib/Twig/Extension/Core.php on line 1275: count(): Parameter must be an array or an object that implements Countable

Finland boosts artillery capability
The Finnish Defence Force (FDF) is expecting to commence training on the Samsung Techwin K9 Thunder 155 mm/52 calibre self-propelled (SP) artillery systems in 2019, director of artillery Colonel Pasi Pasivirta revealed during the latest IQPC Future Artillery conference in London.
The FDF-destined K9s

will be overhauled and fitted with government-supplied subsystems

including a

battle management system (BMS)

,

global positioning system (GPS)

,

radios

and

internal communications

, and

camouflage

. They are already fitted with a muzzle velocity radar system.
Das finnische Verteidigungsministerium hat kürzlich bei der Safran Vectronix AG Zielvorrichtungen des Typs STERNA für die Artillerie bestellt. Der Auftragswert beläuft sich auf 1,27 Mio. EUR:
Puolustusvoimat hankkii hyrräsuuntakehiä





Puolustusministeri Jussi Niinistö on valtuuttanut Puolustusvoimat hankkimaan Sterna-hyrräsuuntakehiä sveitsiläiseltä Safran Vectronix AG:ltä.

Hankinnalla kehitetään maavoimien tulenjohtotoimintaa. Hyrräsuuntakehillä tuotetaan tarkkaa suuntatietoa ja mahdollistetaan tulenjohtomittauksissa tarkempi maalinpaikannus ja siten esimerkiksi ohjautuvien ampumatarvikkeiden käyttö. Hankinta kuuluu tiedustelun, valvonnan ja maalittamisen kehittämisohjelmaan.

Hankinnan kokonaisarvo on noin 1,27 miljoonaa euroa, lisäksi siihen sisältyy lisähankintavaraus vuosille 2018 - 2022.





---
Beiträge: 20984
Registriert: 09. Sep 2008, 22:29
[phpBB Debug] PHP Warning: in file [ROOT]/vendor/twig/twig/lib/Twig/Extension/Core.php on line 1275: count(): Parameter must be an array or an object that implements Countable

Panssarihaupitsi K9 Thunder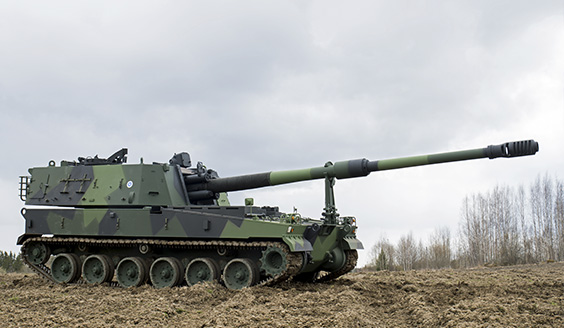 ---
Beiträge: 20984
Registriert: 09. Sep 2008, 22:29
[phpBB Debug] PHP Warning: in file [ROOT]/vendor/twig/twig/lib/Twig/Extension/Core.php on line 1275: count(): Parameter must be an array or an object that implements Countable

Flying higher than a passenger jet
These advantages have driven a number of countries to begin upgrading their artillery guns with longer L-52 barrels necessary to fire at such ranges. This investment has however been held back by a lack of suitable ammunition. Even if a traditional unguided 155 mm shell could be made to go that far, it would not have the necessary accuracy at that distance. One solution has been to fit the shells with expensive guidance systems, but forces can rarely afford to buy as many of these shells as they would need.

To address this issue,

Nammo began a project in 2012 with the Norwegian Defense Material Agency to develop a new type of extended range ammunition that would have sufficient accuracy without a significant increase in costs.

Now, five years later the ammunition is tested and ready, and

recently secured the Finnish Armed Forces as its first customer

.
The new shell design is known as the

155 mm IM HE-ER (Insensitive Munitions, High Explosive, Extended Range.)

It provides artillery forces with the ability to effectively target both personnel and vehicles at ranges over 40 km with very good accuracy - and it does so without adding any guidance systems or submunitions. Instead, Nammo has drawn on its experience from two other areas of expertise - rocket motors and sniper ammunition - to design one of the most capable conventional shells on the market.

Our experience from rocket motors has allowed us to fit the shell with a small rocket motor known as a base bleed. A base bleed is essentially a small rocket installed at the base of a shell that is ignited when it is fired. As it burns, the base stabilizes the airflow over the projectile, reducing drag, and thereby adding range.
The team is currently working to develop 155 mm extended range smoke and illumination shells, with the aim of qualifying the ammunition in 2018. The years beyond may see the introduction of 'extreme range' ammunition, using ramjet-assisted shells, something that Nammo is already exploring. This could allow a standard 155 mm gun to fire at ranges up to 90 km - once again adding significantly to the capabilities of the warfighter.
155 mm HE-ER

High Explosive Extended Range

MISSION

A verified range of more than 40 km from a modern L52 JBMoU gun system. Low round to round dispersion, combined with an enhanced blast and fragmentation effect, optimizes the impact on semi-hard targets at long firing ranges.

The round is designed to defeat light armor and soft targets

, and for increased flexibility incorporates an interchangeable base bleed and hollow base.

TECHNICAL CHARACTERISTICS

Projectile weight with fuze


Muzzle Velocity



935 m/s (6 DM72/& in L/52)


Max. Range with Base Bleed



L/52 gun 41 km / L39 gun: 30 km


Max. Range with Hollow Base



L/52 gun 32 km / L39 gun: 24 km


Dispersion (20 km w/hollow base)



PE length < ±50 m/ width ±10 m


Explosive


Service temperature


Smart ammo: precision-guided munitions for field artillery
A good example is Norwegian manufacturer Nammo's new 155 mm high-explosive (HE) projectile, which is designed to provide field artillery with a significant increase in accuracy over the US-designed 155 mm M107 round. Nammo's HE Extended-Range (HE-ER) projectile has been in development since February 2013 under a contract from the Norwegian Army, with Nammo also providing some of the finance.

The projectile has a more streamlined shape than conventional 155 mm artillery rounds, thus reducing drag and increasing range. Traditionally, 155 mm artillery projectiles have been forged - which remains the first step in this manufacturing process - but the new Nammo projectile is then machined outside and inside before nosing. Machining is more precise than is possible from forging and also reduces weight and run-out variation. Another benefit from adding this extra step and manufacturing to within such strict tolerances is a reduction in dispersion when compared with traditional 155 mm projectiles.

Using a 155 mm/39-calibre ordnance, trials have shown that at a range of 20 km and using the Rheinmetall DM72 modular charge system with five modules, Nammo's 155 mm HE-ER projectile has a deviation of +/-30 m from target. For the Nammo NM28 - which is its version of the US-developed M107 HE projectile - this figure is +/-80 m.
In addition to having improved accuracy, the HE-ER projectile also has an enhanced fragmentation effect against a wide range of battlefield targets.

It has a modular design fitted with a screw-on interchangeable base-bleed (BB) unit to achieve increased ranges. This is used as an alternative to the screw-on, hollow-base unit, used for short and medium ranges.
---
Beiträge: 20984
Registriert: 09. Sep 2008, 22:29
[phpBB Debug] PHP Warning: in file [ROOT]/vendor/twig/twig/lib/Twig/Extension/Core.php on line 1275: count(): Parameter must be an array or an object that implements Countable

ICS digitization solution for military vehicles to the Finnish Defence Forces K9 artillery
Kongsberg Defence Systems (KONGSBERG) has entered into a contract with Hanwha Land Systems to deliver Integrated Combat Solution (ICS) to Finland's new artillery.

Finland has decided to acquire K9 Thunder 155mm self-propelled howitzers from South Korea where KONGSBERG's ICS will be installed.

ICS is a modern vehicle electronic digital system based on open standards for connectivity, integration of sensors, weapons, communication networks and security systems for the next generation military vehicles.
Integrated Combat Solution (ICS)
---
Beiträge: 20984
Registriert: 09. Sep 2008, 22:29
[phpBB Debug] PHP Warning: in file [ROOT]/vendor/twig/twig/lib/Twig/Extension/Core.php on line 1275: count(): Parameter must be an array or an object that implements Countable

---
Antworten
[phpBB Debug] PHP Warning
: in file
[ROOT]/vendor/twig/twig/lib/Twig/Extension/Core.php
on line
1275
:
count(): Parameter must be an array or an object that implements Countable