Övning med Archer
Zusammenfassend: Es haben erstmals "Teilzeitsoldaten" (
deltidssoldater
; Die Nachfolgeorganisation der früheren schwedischen Miliz.) mit dem System Archer trainiert.
"Archersystemet ett lyft för oss"
(19. Juni 2014)
New Delivery Agreement for Archer
(18. Juni 2014)
Zitat:
Since December 2013, when Norway withdrew from collaboration with Sweden on the Archer artillery system project, there has been uncertainty about how this would affect delivery of the system to Sweden. Therefore, on 17 June 2014 FMV finalised an amended agreement with BAE Bofors AB.
Final deliveries of the system to the Swedish Armed Forces will start at the beginning of 2016 and continue at a rate of two systems per month.
Zitat:
FMV delivered a pre-production series of four systems to the Artillery Regiment, A9, in Boden in September 2013.
Första fältveckan med nya pjäser
(17. Februar 2014)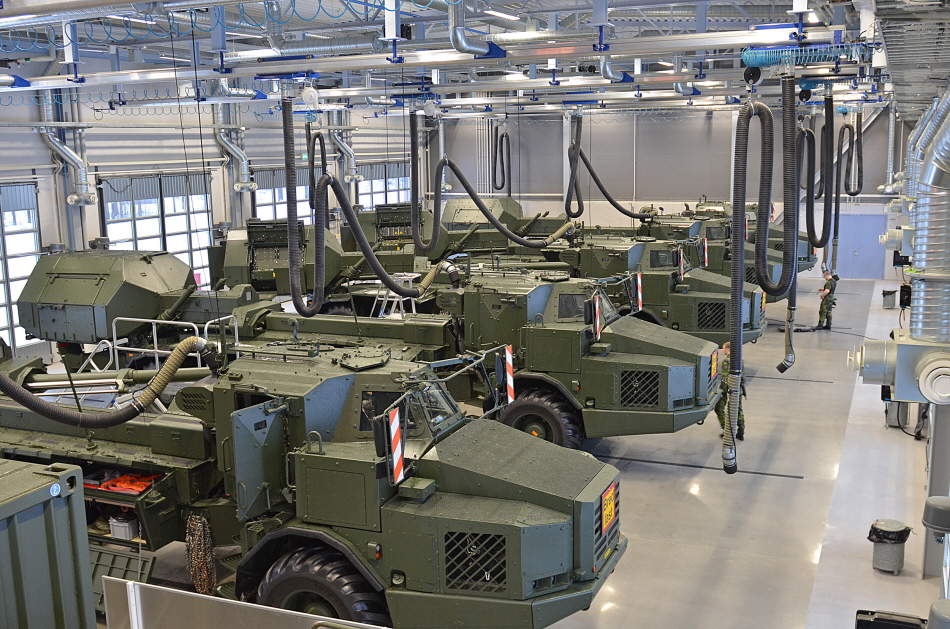 Why Norway Pulled the Plug on Archer
(9. Dezember 2013)
Zitat:
Norway's surprise Dec. 6 decision to withdraw from the Archer 155mm joint artillery project with Sweden was prompted by delivery delays and by unspecified performance shortcomings, according to Norwegian defense officials.
"Late delivery is one of the reasons for cancelling. Our Minister of Defence has also said that Archer does not meet Norwegian operational requirements set out in the contract,"
Birgitte Frisch, special advisor to the new defense minister Ine Eriksen Søreide, told
Defense-Aerospace.com
Dec. 7. She added that
the Norwegian Chief of Defence, Admiral Haakon Bruun-Hanssen on Dec. 2 "gave his recommendation to the [minister] to cancel the project, a recommendation that the minister followed."
Both top Norwegian defense officials took office less than two months ago.
Contractually, all 24 Archer guns on order for Norway were to have been delivered by the end of 2013, and in operation by the end of 2014
, according to the Norwegian MoD's official statement,
but as of December 2013 none had been delivered.
Prime contractor BAE Systems Sweden delivered the first four Archers to the Swedish Defence Materiel Administration, FMV, on Sept. 23, but in its statement at the time made no mention of deliveries to Norway.
Zitat:
Maj. Eystein Kvarving, spokesman for the Norwegian Chief of Defence
, told
Defense-Aerospace.com
Dec. 7 that
"Norway has a requirement for a highly mobile and very quick artillery system, and mobility also means mobility during our extreme winter conditions. If Archer had worked to specification, it would have suited us," but this was not the case. He declined to elaborate on the system's shortcomings because of classification issues.
Norway's intention is to continue working on acquiring a new artillery system that can enter service in 2020, when its current artillery will have to be retired.
It currently has a single artillery battalion, nominally with 18 M109s.
Zitat:
It is surprising that the mobility issue came up at such a late stage in the program, but in the official statement announcing its withdrawal, the Norwegian Ministry of Defence said it was pulling out because "the army has changed its concept of operations to be more mobile and to operate faster," implying Archer no longer fits these new requirements.

To date, Norway has spent 550 million kroner on the Archer project, Frische said, of which NOK 380 million on development and NOK 170 million on procurement, out of a total program envelope estimated by Swedish media at about NOK 700 million. She declined to say if and how much Norway might have to pay in terms of penalties, and said "details regarding the cancellation will be settled at later stage."

Frische further noted that "However, we do not pull out of the entire project (Project New Artillery for the Army) or of cooperation with FMV: we still cooperate on artillery-locating radar (ARTHUR), fire control system (ODIN) and ammunition," as well as education and training.