Hinweis: Sie befinden sich im Archiv des alten Forum von DOPPELADLER.COM. Dieses Forum wird nicht länger betrieben. Es ist nur mehr Lesezugriff möglich.
Wir setzen gerade ein neues Forum auf!
Beiträge: 20985
Registriert: 09. Sep 2008, 22:29
---
Beiträge: 20985
Registriert: 09. Sep 2008, 22:29
Defiant's delay due to blade manufacturing challenges
The SB-1 Defiant Joint Multi-Role demonstrator aircraft's delay for first flight can be attributed to challenges in manufacturing its complex rotor blades for the helicopter's coaxial design, the U.S. Army's JMR program manager told Defense News at DSEI, a defense conference in London, on Monday.

"The challenge has been the manufacturing of the blades, which is an interesting challenge," Dan Bailey said. "Some people would think that's not technology but actually it is."

The Boeing-Sikorsky team building the demonstrator for the U.S. Army announced it would not fly in 2017 as planned due unspecified problems.
One of the things the Boeing and Sikorsky team is doing under the JMR program is to design a future program that would make the aircraft more affordable. One way of doing that is to move from having people build the rotor blades to having machines that can handle the complex task.

To achieve the proper aerodynamics for a rotor blade, it "requires some very laborious-type manufacturing," Bailey said. "They are done in a manner that is multi-sheets of composite material and they have to be laid up in certain patterns, certain directions, for strength properties and they do that pretty much today with people."

The team instead decided to build the rotor blades with a process that uses a machine that lays up the material as it goes, Bailey said.

"The challenge with that is you have to have a tool that allows you to lay up that material," he added, which is "a long, tube-like configuration and that machine lays up the composite material around it," to create a rotor blade spar, the main structural part of the blade, Bailey explained.

The tool has to be "a fairly long piece of tool, it can't have any sag, it has to be very dimensionally specific and structured and that has been a challenge," Bailey said.

The team started with one type of material to build the tool and then switched to a different material. This alteration ultimately caused the delay.

"The good news about that is we have completely removed that risk," Bailey said, because it is going to be the same process the team would use to build rotor blades in a program of record.

The team has built two spars using the new tool and the problem seems to be resolved, Bailey said.

Defiant is still on track to fly in the spring or early summer timeframe, Bailey said, but added that the time associated with building all the rotor blades for the demonstrator is about 10 months behind.
---
Beiträge: 20985
Registriert: 09. Sep 2008, 22:29
Bell Helicopter

@BellHelicopter

The Bell #V280Valor prototype aircraft has successfully begun its restrained ground run test operations:

08:41 - 4. Okt. 2017
Bell pushes Valor's first flight past September
(3. Oktober 2017)
Bell Helicopter did not reach first flight with its V-280 Valor on 30 September as originally announced and instead projects

the tiltrotor aircraft will meet that milestone in November

, V-280's programme manager tells FlightGlobal this week.

In August, Bell finished building its V-280 prototype but only referred to its first flight date as this fall. Bell started ground tests on 20 September, beginning with checks of the GE Aviation T64 engines and later electromagnetic interference checks on the Lockheed Martin-supplied avionics. Bell didn't add test points to its ground test regimen, but is taking those tests more slowly, V-280 programme manager Chris Gehler says.

"We're being very cautious and methodical," Gehler says. "So it's maybe taking a little bit longer but we're not pushing the aircraft beyond what we think is safe. We had a couple of items we wanted to investigate."

Weather also played a role in pushing first flight later into the fall, with even drops of rain threatening to erode instrumentation on the rotor blades.

"I wish I would have installed a carport over my ground run facility so I could run during the rain," he says. "With all the instrumentation that we have on the blades and everywhere else, we're really limited to being able to operate when it's not raining."
Bell V-280 Ready For First Flight
(3. Oktober 2017)
Bell Helicopter has begun restrained ground testing of its V-280 Valor prototype ahead of first flight in

late October

....
---
Beiträge: 20985
Registriert: 09. Sep 2008, 22:29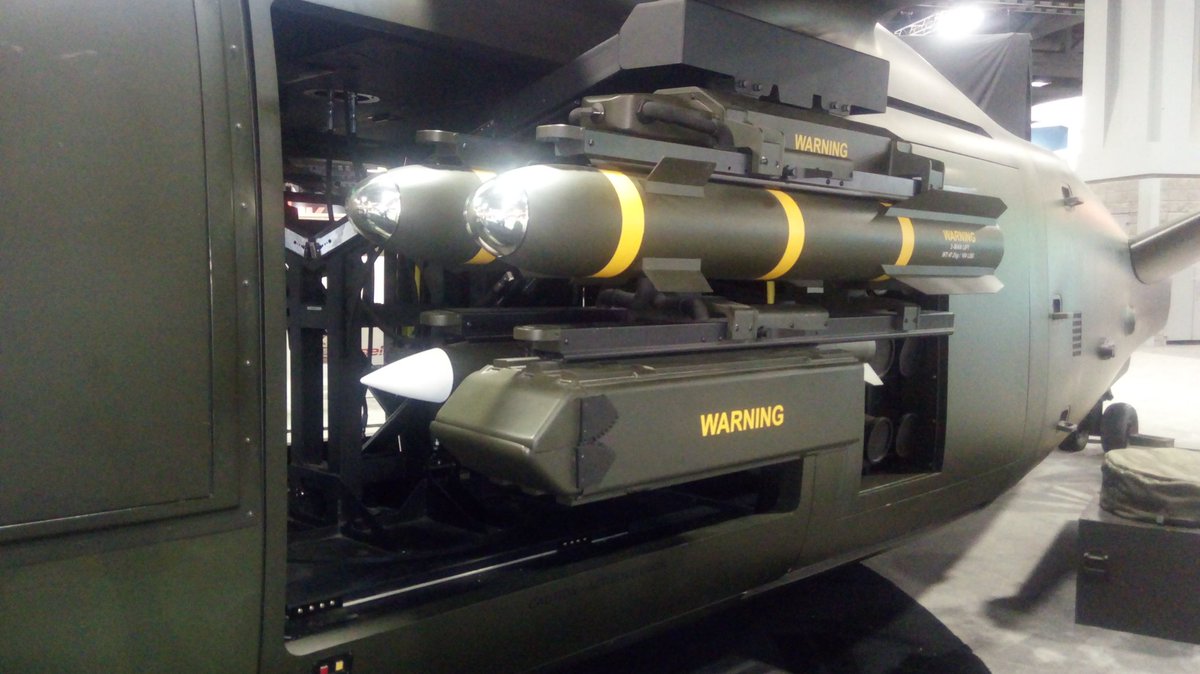 Bell V-280 Valor -- 100% Rotor RPM
Zuletzt geändert von
theoderich
am 15. Nov 2017, 21:34, insgesamt 1-mal geändert.
---
Beiträge: 20985
Registriert: 09. Sep 2008, 22:29
Bell V-280 Valor -- 75° Rotor Tilt
---
Interessant das man im Video die offenen Umlenkbereiche vom Antrieb wegblendet aber auf den Fotos teilweise zeigt.
---